Hotel Goes From 0 Likes to 3,200 in just 2 months

Strategy
Our team built a custom Facebook page for The Orange Oasis Hotel & and began regular social posting with best practices. They also set up and ran Facebook Advertising campaigns to supplement traffic and exposure.
Our team created a well-designed and accurate Facebook page for The Orange, including all relevant details about the hotel, with accurate business hours and the ability for customers to engage with the business directly from the page. These are a must for generating more business via social media!
One part of the plan was to build their presence through organic social posts. Our team began posting relevant, timely and engaging social posts to The Orange's new Facebook page, following social media best practices, to grow the audience, reach and promote the client's brand. We provided them with a full calendar of custom-crafted social posts that would be scheduled for Facebook, Twitter and Google+. The calendars consisted of five original posts for each week of the month, and were approved, scheduled and published live for their social channels.
Results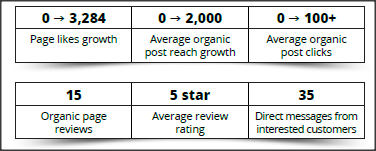 Read the full case study here!